My Inventory Software for Windows
Many of our customers were saying the same thing - "Inventory Management software is so complex! I just need something simple to set up and use. I also need help when I get stuck from someone based in Australia." We listened. We tested various designs of My Inventory" with these customers. The My Inventory software package is the result of the efforts of people with inventory management issues in Australian companies. Once you have set up the software, most of the stock management occurs on one powerful screen. You can define up to eight fields of data on your items to track informatiuon specific to your needs.The My Inventory software easily imports and exports information from your existing software. The comprehensive reporting module has 35 prebuilt reports that can be printed or exported to PDF or Excel.
Is your inventory management getting out of control?
Do you want to have all of your stock information at your fingertips ?
Do you need to create a database of your Items, Customers and Suppliers?
Do you need to track your Consumable stock?
| Manage Stock Screen | Manage Sales Screen | Manage Purchases Screen |
| --- | --- | --- |
| Manage Locations Screen | Manage Customers Screen | Manage Suppliers Screen |
| Import Data Screen | Export Data Screen | |
My Inventory is a flexible solution that allows you to monitor the movement of your stock. My Inventory is simple to use.
The user interface was designed by our customers. My Inventory will get the job done quickly and effectively!


My Inventory Features
| | |
| --- | --- |
| All Stock Information Available on One Screen | Full set of built in reports |
| User Definable Data Fields | |
| | Simple, Intuitive User Interface |
| | |
| Manage the sale and purchase of your stock | Dymo LabelWriter compatible |
| Powerful Data Import / Export Features | Date Stamping of all Stock Transactions |
BT-1560 Cordless Barcode Scanner


FEATURES & BENEFITS
The BT-1560 is a powerful wireless barcode scanner at a standard barcode scanner price. It can scan barcodes from your PC, your MAC, your Android and your Iphone. It is tough an can transmit barcodes up to 90 metres away from the cradle. It can store thousands of barcodes when you are out of range to download into your device later.
FEATURES

Simple Setup
Scans from the LCD screen inclucing Windows, IOS, Android, MAC
90 meter Bluetooth wireless range
Can store thousands of Barcodes for later use
Includes Hands free scanning and charging through the all-in-one cradle
Out of range memory / batch mode functions

Can store 1000s of barcodes in batch mode
Easily replaceable battery
1.2m drop rating with IP41 environmental rating
Up to 40 Hours Battery Life
Reads Down to a 4Mil Code
Able To Scan Handsfree While Charging
The Easiest Software You Will Use
My Inventory recommended system configuration:

Microsoft Windows :

Windows 2000, Windows XP, Windows Vista or Windows 7

512MB of RAM

30MB of free disk space

1024x768 screen resolution or higher

The My Inventory software is easy to set up and administer. Simply follow the instructions.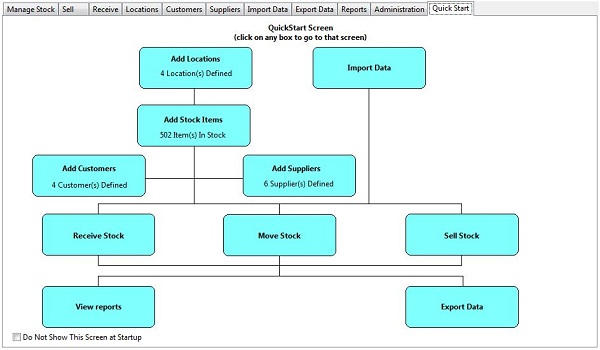 Mange Stock Moves, Sales and Purchases Easily
We asked our customers what they wanted in a software package. They asked for the simplest interface possible. My Inventory has easy Steps on each screen and many help buttons to keep all of your stock transactions as simple as possible.

A Full Set of Reports At Your Fingertips
My Inventory comes complete with a full set of reports: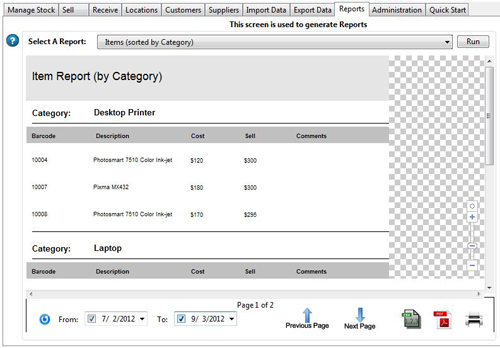 Simple, Intuitive User Interface
My Inventory offers many simple & powerful features. All Items are displayed on one screen in a data grid that can be easily navigated. A "Stock Quick Navigator" manages Locations, Categories and Stock Levels with ease. Double click any item within the grid to display the complete information on that item. Click any column in the grid to automatically sort the information within that column.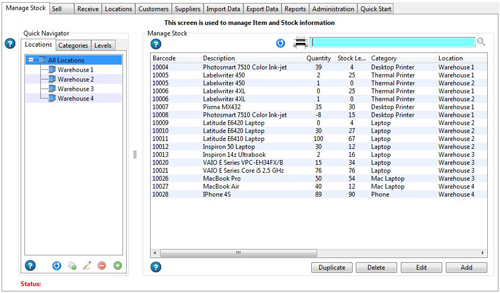 Advanced Data Capabilities
Field Names like Description, Category, Location, Quantity and Cost are already defined for you. My Inventory also allows you to define up to eight of your own field names. You can also define Items as Consumable to track those items that are used in the field.

Barcode Scanner Enabled
My Inventory has been designed to work seamlessly with barcode scanners. The software has been tested with many of the barcode scanners on the market today. This software works best with corded and cordless barcode scanners and will import data from portable barcode scanners.

Full Filtering & Search Capabilities

My Inventory for PC provides you with different ways to view your data. A full search capability allows you to locate data within your database. A filter capability gives you the ability to view of a portion of your database.
Upload / Download Data to Your PC

My Inventory allows you to upload and download information from your item database. Powerful Import/Export wizards assist you through the process.

Based on SQL Lite
SQLite is a popular choice for local/client storage. It is a small and extremely fast database. It is arguably the most widely deployed database engine, as it is used today by several widespread browsers, operating systems.
BT-1560 Cordless Barcode Scanner Specifications